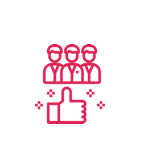 Excellent support
Support, advice and guidance offered to Foster Carers 24 hrs per day, 365 days a week.
Ongoing training available to increase Carers skills, knowledge and resilience.

Generous Allowances
We believe foster carers should receive an allowance that reflects the hard work they do and so our rates are generous. Higher rates are paid to carers who look after children with complex needs and challenging behaviour.

Effective Matching
Marching considerations are vitally important when thinking about placing a child with your family. We consider the foster carers experience, skills and preferences against the needs and behaviours of the child needing to be placed.

Personal Experience of Fostering
The Directors at Aim High have personal experience of being Foster Carers and Adopters and know at grass roots level what it means to care for a looked after child. This is why support offered to placements is second to none.